Big Brother 18 (UK)
Country
UK
Series
18
Series Run
June 5, 2017 - July 28, 2017
Sponsor
Host
Emma Willis
Prize Money
£65,000 (Main)
£15,000 (SC)
Housemates
22
Days
54
Winner
Isabelle Warburton
Runner(s)-up
Raph Korine
Cast

Opening Sequence

00:16

Big Brother UK (18) 2017 Titles

Series Chronology
Previous Series
Big Brother 17 (UK)
Next Series
Big Brother 19 (UK)
Big Brother 18 (UK) also known as "The United Kingdom of Big Brother" the upcoming series of Big Brother (UK).
Background
Casting
A rumor which would later become truth as first the first time that you must audition as pairs. There will be no individual applicants, you must audition with a partner. After the audition, they may or not split you from your partner if you move on.[1] The rumor about pairs was confirmed during Celebrity Big Brother 19 when Emma Willis announced that they were looking for pairs.
Eye
The eye was revealed on Thursday 11th, May 2017 [2] on Twitter. The theme was revealed to be a Best of British theme will a political battle to the top with words like "immigrants and polling place" rather than the original "nominate and evict". The motto of the series is "The United Kingdom of Big Brother… and everyone is welcome."[3]
Airing
The series launched on June 5th with a two-hour episode. This season will feature live feeds after each eviction after a 90-minute eviction episode.
House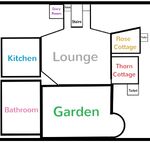 The house was revealed on May 31, 2017. The house was shown to have a British theme with a new construction of the house after pictures were leaked in April.[4]. During the house reveal, it was discovered that there would be two bedrooms for the first time since Big Brother 9 (UK) in 2008.[5]In addition, it will be the first time since the move to Channel 5 in 2011 that the kitchen would be separated from the living room.
Housemate Reveal
Unlike the usual launch night reveal, on June 2, 2017, six housemates were revealed to the public.[6] This is the first time since Big Brother 16 (UK) that housemates have been revealed before the series launched.
Twists
People's Housemate: For the first time in history, one housemate selected from four individual candidates will serve as the people's housemate. That housemate will openly communicate to the outside world to make decisions while overruling the house.
Additional Housemates: Due to three extra housemates leaving the house, two females and one male will enter the house for a chance to stay in the house.
Housemates Choose New Housemates: Building on above, existing housemates will get to choose from all three new housemates of which two they would like to stay in the house.
Second Chance Housemates: Due to the ejections and walkers, all the previous potential housemates were given a chance to enter the house.
Stolen Prize fund: After entering the house, it was revealed that the second chance housemates were not allowed to win. However, as a result, £15,000 has been removed from the normal housemates' prize fund for a second prize for the second chancer that makes it the furthest.
The Hunt: A series of games instead of nominations where the losers faced the next eviction. On Day 37, Chanelle became the first victim of The Hunt, and Simone became the second. This continued on Day 38, where Isabelle and Sue became the third and fourth victims of The Hunt respectively.
The Steal: During Week 7, housemates were divided up in two different teams competing for £20,000 out of the Prize Fund. After two days, £18,810 was collected by the two teams. Since the Gold Team won the most, all members had to chance to claim all the money for themselves and as a result, evict one housemate from the house. Andrew claimed the money and evicted Sam.
Housemates
House Guests
During the series, various past housemates visited the Big Brother House.
People's Housemate
For more information, check out the twist page.
Tasks
Shopping Budget History
The Void History
During Week 5, The Void entered the Garden for housemates to talk about nominations. There were four different rounds played and the winner of each round was able to take one other housemate and one of the four new second chance housemates into the void to persuade their viewpoints on that week's nominations.
The Steal History
Note: The money amounts are not correct due to the fact that the highlight shows omitted certain cash values added.
Day
Competition
Winner
Team
Prize
Won/Lost
Team Funds
Black Team
Gold Team
Day 42
First to press buzzer.

Raph
Black Team
£100
£100
£0
First to eat ten fermented eggs.

Tom
Black Team
£2,000
£2,100
£0
First to press buzzer.

Kieran
Gold Team
£160
£2,100
£160
Be the first to claim a increasing
pot before time runs out..
No Winner
Various Amounts
Not Accepted
£2,100
£160
First to press buzzer.

Hannah
Gold Team
£400
£2,100
£560
First to press buzzer.

Ellie
Gold Team
£750
£2,100
£1,310
Pick up phone call and speak to sister.

Isabelle
Gold Team
-£150
£2,100
£1,160
First to press buzzer.

Raph
Black Team
£250
£2,350
£1,160
Spend the night with boyfriend.

Chanelle
Black Team
-£400
£1,950
£1,160
Day 43
First to press buzzer.

Sam
Gold Team
£750
£1,950
£1,910
First to claim will have all body hair removed.

Andrew
Gold Team
£3,000
£1,950
£4,910
Spend time with a Big Brother legend
(Season 11 Winner Josie Gibson)

Raph
Black Team
-£150
£1,800
£4,910
Unknown
Gold Team
£500
£1,800
£5,410
First to press buzzer.

Charlotte
Black Team
£1,090
£2,890
£5,410
Spend the night together alone.

Ellie & Sam
Gold Team
-£400
£2,890
£5,010
Cut one member of the Black Team from the task.
(Chose Raph)
Gold Team
£5,500
£2,890
£10,510
Cut one member of the Gold Team from the task.
(Chose Kieran)
Black Team
£5,500
£8,300
£10,510
Nominations History
Week 1

Week 2

Week 3

Week 4

Week 5

Week 6

Week 7

Week 8

Day 1

Day 3

Day 5

Day 16

Day 18

Day 20

Day 21

Day 39

Day 40

Day 44

Day 45

Day 47

Day 49

Day 52

Final

Isabelle
Not In House
Ineligible

Lotan
Tom
No
Nominations
Ineligible

Third
Hunted
Saved
Ineligible
Tom
Kieran
Tom
Ineligible
No
Nominations
Winner
Raph
Housemate
Exiled
Saved

Joe
Kayleigh
Ineligible

Tom
Joe
Tom
No
Nominations
Joe
Ellie
Survived
Chanelle
Ellie
Kieran
Kieran
Ineligible

No
Nominations

Runner-Up

Deborah
Housemate
Citizen
Rebecca
Kayleigh
Ineligible

Joe
Tom
Lotan
Tom
No
Nominations
Tom
Joe
Survived
Chanelle
Ellie
Tom
Tom
Ineligible

No
Nominations
Third
Place
Tom
People's HM
Mandy
Sukhvinder
Imran
Ineligible

Rebecca
Hannah
Isabelle
No
Nominations
Ineligible
Survived
Chanelle
Chanelle
Isabelle
Hannah
Isabelle
No
Nominations
Fourth
Place
S
Andrew
 
 
Joe
Tom
Survived
Chanelle
Saved
Sam
Hannah
Chanelle
Hannah
Ineligible
Ineligible
2nd Chance
Winner
Kieran
Housemate
Citizen
Sukhvinder
Charlotte
Isabelle
Savannah
Joe
Chanelle
Isabelle
Hannah
No
Nominations
Ineligible

Survived
Chanelle
Chanelle
Raph
Isabelle
Ineligible

No
Nominations
 
 
Hannah
Housemate
Saved
Citizen
Rebecca
Kayleigh
Ineligible

Joe
Rebecca
Lotan
No
Nominations
Tom
Charlotte
Survived
Chanelle
Ellie
Tom
Kieran
Charlotte
No
Nominations
 
 
Charlotte
Housemate
Saved
Citizen
Joe
Imran
Ineligible

Joe
Chanelle
Isabelle
Hannah
No
Nominations
Ineligible
Survived
Sue
Chanelle
Raph
Hannah
Ineligible
 
 
Ellie
Housemate
Citizen
Charlotte
Sukhvinder
Ineligible

Joe
Rebecca
Isabelle
No
Nominations
Raph
Hannah
Survived
Chanelle
Hannah
Chanelle
 
 
Chanelle
Housemate
Exiled
Saved

Rebecca
Sukhvinder
Isabelle
Savannah
Joe
Rebecca
Lotan
No
Nominations
Ineligible

First
Hunted
Charlotte
Kieran
 
 
S
Sam
Not In House
 
 
Charlotte
Deborah
Saved
Chanelle
Chanelle
Hannah
 
 
S
Sue
 
 
Charlotte
Tom
Fourth
Hunted
 
 
S
Simone
 
 
Hannah
Raph
Second
Hunted
 
 
Joe
Housemate
Citizen
Raph
Rebecca
Charlotte
Ineligible

Rebecca
Charlotte
Isabelle
No
Nominations
Ineligible
 
 
Savannah
Not In House
Ineligible

Isabelle
Hannah
No
Nominations
 
 
Lotan
Housemate
Exiled
Saved

Hannah
Sukhvinder
Isabelle
Savannah
Hannah
Chanelle
Isabelle
Hannah
 
 
Rebecca
Housemate
Exiled
Saved

Sukhvinder
Imran
Ineligible

Joe
Hannah
 
 
Kayleigh
Housemate
Citizen
Imran
Deborah
 
 
Sukhvinder
Housemate
Exiled
Saved

Kayleigh
Rebecca
 
 
Imran
Housemate
Rep
Exiled
Rebecca
Ellie
 
 
Arthur
Housemate
Exiled
Saved

 
 
Mandy
Housemate
Rep
Exiled
 
 
| | | | | | | | |
| --- | --- | --- | --- | --- | --- | --- | --- |
| Key: | Nominated | Saved | Immune | Walked | Evicted | Ejected | Guest |
| | | | |
| --- | --- | --- | --- |
| People's Housemate | Vote to Save | Vote to Evict | S: Second Chance Housemate |
Trivia
References
Ad blocker interference detected!
Wikia is a free-to-use site that makes money from advertising. We have a modified experience for viewers using ad blockers

Wikia is not accessible if you've made further modifications. Remove the custom ad blocker rule(s) and the page will load as expected.