Big Brother Brazil 18
Country
Brazil
Series
18
Series Run
January 22, 2018 - April 19, 2018
Host
Tiago Leifert
Prize Money
R$ 1.5 million
Housemates
19
Days
88
Winner
Gleici Damasceno
Runner(s)-up
Kaysar Dadour
Ana Clara & Aryton Lima
Cast

Opening Sequence

Big Brother Brasil 18 Intro

Series Chronology
Previous Series
Big Brother Brazil 17
Next Series
Big Brother Brazil 19
Big Brother Brazil 18 is the eighteenth season of Big Brother Brazil.
Background
Casting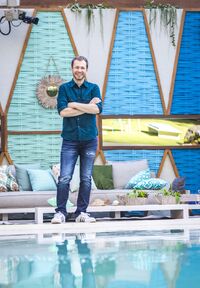 The cast was revealed on January 18, 2018, one-by-one during commercial breaks on Rede Globo. Online, a round-table led by Big Brother Brazil 13 winner Fernanda Keulla to discuss the new housemates with past housemates. The new housemates would also be interviewed by Big Brother Brazil 17 runner-up Vivian Amorim in sequester as they would be revealed. These interviews were held live from the sequester hotel and also were shown online.
Twists
Housemates
Potential Housemates
Nominations History
Week 1

Week 2

Week 3

Week 4

Week 5

Week 6

Week 7

Week 8

Week 9

Week 10

Week 11

Week 12

Day 1

Day 7

Day 74

Day 77

Day 84

Day 85

Finale

Gleici
Ineligible

Diego

Ana Paula

Saved


Ana Paula

Diego
Lucas
Diego
Patrícia
Diego
Diego
Jessica
Caruso
Saved
Viegas
Viegas
Jessica
Ineligible

Ineligible

Winner
Kaysar
Ineligible

Viegas
Viegas
Viegas
Lucas
Lucas (x2)
Gleici
Wagner
Wagner
Gleici
Wagner
Ana Clara
& Aryton
Breno
Paula
Breno
Paula
Runner-Up
Ana Clara
Ineligible
Diego
Diego

Ana Paula

Nayara
Diego
Diego
Diego
Diego
Jessica
Caruso
Viegas
Viegas
Jessica
Ineligible
Ineligible
Third Place
Aryton
Ineligible
Paula
Ineligible

Patrícia

Ana Paula

Ana Paula
Diego
Caruso
Diego
Caruso
Caruso
Caruso
Viegas
Viegas

Ana Clara


& Aryton
Paula

Ana Clara


& Aryton
 
 
Breno
Ineligible

Gleici
Caruso

Ana Paula

Gleici
Wagner
Wagner
Diego
Caruso
Kaysar

Ana Clara


& Aryton
Viegas
Kaysar
Ineligible
 
 
Jessica
Ineligible

Vetoed
Diego
Saved


Ana Paula

Ana Paula

Gleici
Caruso
Gleici
Caruso
Caruso
Caruso
Ana Clara
& Aryton
Gleici
Gleici
 
 
Viegas
Ineligible

Jessica
Mahmoud
Mahmoud
Mahmoud
Jessica
Mahmoud
Saved
Jessica
Saved
Jessica

Ana Clara


& Aryton
Gleici

Ana Clara


& Aryton

Ana Clara


& Aryton
 
 
Wagner
Ineligible

Jessica
Mahmoud
Mahmoud
Saved
Mahmoud
Jessica
Mahmoud
Diego
Jessica
Kaysar
Jessica
 
 
Caruso
Ineligible

Jessica
Mahmoud
Mahmoud
Mahmoud
Jessica
Mahmoud
Jessica
Jessica
Gleici
 
 
Diego
Ineligible

Jessica
Mahmoud
Paula
Gleici
Paula
Gleici
Breno
Gleici
Breno
 
 
Patrícia
Ineligible

Jessica
Mahmoud
Mahmoud
Gleici
Saved
Gleici
Paula
Gleici
Mahmoud
Breno
 
 
Mahmoud
Ineligible


Ana Paula


Mara

Ana Paula

Ana Paula
Caruso
Caruso
Wagner
 
 
Lucas
Ineligible

Gleici
Gleici

Ana Clara


& Aryton


Ana Paula

Gleici
Caruso
 
 
Nayara
Ineligible

Jessica
Mahmoud
Mahmoud
Caruso
 
 

Ana Paula

Ineligible

Jessica
Mahmoud
Mahmoud
 
 
Jaqueline
Ineligible

Gleici

Ana Clara


& Ayrton
 
 
Mara
Ineligible

Caruso
 
 
Eva
Ineligible
 
 
Jorge
Ineligible
 
 
| | | | | | | | | |
| --- | --- | --- | --- | --- | --- | --- | --- | --- |
| Key: | HOH | Non-Immune HOH | Nominated | Immune | POV | POI | Twist Holder | Evicted |
| | | |
| --- | --- | --- |
| Saved: Saved by Immunity Winner(s) | Vetoed: Vetoed Post-Nominations | Face to Face Nominations |
Have/Have-Not History
Week
1
+
2
+
3
+
4
+
5
+
6
+
7
+
+
8
+
+
9
+
+
10
+
11
+
Notes
Game History
Trivia