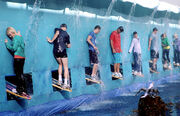 Ever since
Big Brother
began, competitions have been a very important part. The winner of the competition or the group will receive power of special privileges for the week. There are many different types of competitions, listed below.
Competitions Through Big Brother U.S.
Note*: The Coup d'Etat and the Diamond Power of Veto reappeared on Big Brother 11 and Big Brother 12 respectively, however, the houseguests on both seasons didn't compete for neither of the two. Instead, they were given out by America's Vote and Pandora's Box respectively.
Competitions Through Pinoy Big Brother