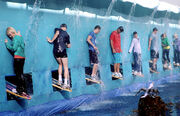 Ever since
Big Brother
began, competitions have been a very important part. The winner of the competition or the group will receive power of special privileges for the week. There are many different types of competitions, listed below.
Competitions Through Big Brother U.S.
Competitions Through Pinoy Big Brother
Ad blocker interference detected!
Wikia is a free-to-use site that makes money from advertising. We have a modified experience for viewers using ad blockers

Wikia is not accessible if you've made further modifications. Remove the custom ad blocker rule(s) and the page will load as expected.