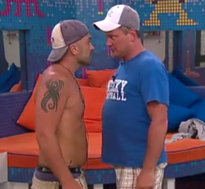 The Expulsion of a Big Brother HouseGuest occurs when the Expelled HouseGuest has repeatedly broken critical rules or has jeopardized the safety of the other HouseGuests due to their behavior. For doing this, the HouseGuest is removed from the house permanently via the Diary Room. The expelled HouseGuest is usually warned for repeated unacceptable behaviors before being expelled. HouseGuests who are expelled during the jury stage are not allowed in the jury, and their votes are determined by a poll. Expelled HouseGuests are ineligible to win the Fan Favorite Award and are banned from attending the finale. There are currently four HouseGuests that have been expelled throughout Big Brother. In Big Brother UK, it is common for people to be expelled, as most seasons have had at least 1 houseguest expelled. Less then half of the 18 seasons have had no houseguest expelled, although most of these seasons had many people leave voluntarily. 
List of Expelled HouseGuests
Edit
United States
Edit
| Season | HouseGuest | Reason for Expulsion | Details |
| --- | --- | --- | --- |
| 2 | | Repeatedly warned for threats to harm other HouseGuests and exceedingly violent behavior, causing other HouseGuest to fear for their safety. | Justin and Krista Stegall were kissing in the kitchen while intoxicated, then Justin took out a kitchen knife and held it to Krista's throat while still kissing her. Though Krista seemed to enjoy it, Justin was promptly called to the Diary Room after the event occurred. The rest of the house was informed the following morning that after a confrontation with a psychiatrist, he presented too much of a safety risk to remain in the house. |
| 4 | | Verbally intimidated other HouseGuests and threw chairs around the house, generally making other HouseGuests uncomfortable | After learning that his ex-girlfriend Amanda Craig would be in the house with him due to the "X-Factor" twist, Scott became very reclusive and easily angered. He showed unusual behavior such as almost hitting Jack Owens with a giant chess piece and angrily throwing chairs around the house. After trying to apologize to the house for his behavior, explaining that he still had feelings for Amanda, he was called to the Diary Room and never came back out. |
| 11 | | Refused numerous orders given by Big Brother; Purposely destroyed her microphone | Chima had violated various a number of different rules throughout her time in the house. This included refusing to go to the Diary Room when called, not wearing her microphone, and obstructing cameras in the bedroom. She also threatened to cause a scene on the live show in the event that Jeff had and chose to use the Coup D'etat, which resulted in that week's eviction episode being pre-taped. Following Jessie Godderz' unexpected eviction and having been nominated for eviction by Michele Noonan, Chima declared that she would leave the show. She refused to put on her microphone, and when Kevin Campbell brought it to her, she destroyed it by tossing it into the hot tub. After refusing to exchange the broken microphone or go into the Diary Room, the executive producer (Allison Grodner) got on the intercom and managed to persuade Chima to comply. When Chima arrived in the Diary Room, she was immediately escorted out of the house. Due to her removal, she was not allowed on the jury and her vote to win was replaced by America's Vote. |
| 14 | | Got into a physical altercation with Joe Arvin. | Willie began to lose control soon after Frank Eudy (his rival) won the Head of Household competition and Janelle Pierzina put himself, along with his teammates JoJo Spatafora and Shane Meaney, as the Have-Nots for the week. After failing to see reason with his coach, Britney Haynes, and assuming he would be leaving regardless, Willie continued to instigate problems with his fellow HouseGuests, hurling insults until Joe Arvin fought back. |
Ad blocker interference detected!
Wikia is a free-to-use site that makes money from advertising. We have a modified experience for viewers using ad blockers

Wikia is not accessible if you've made further modifications. Remove the custom ad blocker rule(s) and the page will load as expected.