Emmett Blois
Houseguest Profile
Nickname
Milk Man
Hometown
Gore, NS
Occupation
Dairy Farmer
Season History
Big Brother Canada 1
Status
Jury Member
Place
3rd
Votes Against
2
Alliances
Quattro
East Coast Alliance
Loyalties
Jillian MacLaughlin
Tom Plant
HoH Wins
2 (Day 50 & Week 9)
Times Nominated
2 (Week 1 & Day 71)
Vetos Wins
3 (Day 29, Weeks 5 & 10)
Days
71
Social Media
Emmett Blois is a houseguest from Big Brother Canada 1.
At the start of the game Emmett joined the Quattro alliance along with Tom, Alec and Peter. He also formed a close "showmance" with Jillian. He also proved to be a physical threat, performing well in many competitions. He was briefly named Head of Household in Week 4, but video evidence proved that along with three other HouseGuests, he had cheated in the competition and his title was stripped from him. Later on after Quattro and fallen apart Emmett, along with Jillian, joined the East Coast Alliance, but he was ultimately eliminated by Gary (like the rest of his alliance) becoming the final member of the jury where he voted for his partner Jillian to win.
Biography
Emmett (b. 1988) is a 29 year old Dairy farmer from Gore, Nova Scotia. He describes himself as being outgoing, social, and an adventure seeker. He states that his brother is the main reason he applied for the series, and he was excited to inform him he had made it in.
Player History - Big Brother Canada 1
Competition History
Week 1
HOH
Loss
POV
Loss
Week 2
HOH
Loss
Have/Have-Not
Have
POV
Not Picked
Week 3
HOH
Loss
Have/Have-Not
Have
POV
Loss
Week 4
HOH
Disqualified
HOH
Illegible
POV
Win
HOH
Loss
POV
Win
Week 5
HOH
Loss
POV
Win
Week 6
HOH
Loss
HOH
Loss
POV
Loss
Week 7
HOH
Loss
POV
Loss
HOH
Win
POV
Loss
Week 8
HOH
Loss
Have/Have-Not
Have
POV
Loss
Week 9
HOH
Win
POV
Loss
Week 10
HOH
Loss
POV
Win
HOH Part 1
Win
HOH Part 2
Unable to Play
HOH Part 3
Loss
Have/Have-Not History
Week 1
Have
Week 2
Have
Week 3
Have
Week 4
Have-Not
Week 5
Have
Week 6
Have-Not
Week 7
Have
Week 8
Have
Week 9
Have/Have-Not Phase Over
Week 10
Voting History
HOH History
Original Nominees
Post-Veto Nominees
Intended Target
Day 50
Week 9
Post Big Brother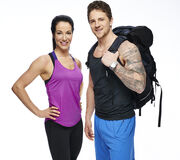 Trivia
Emmett won the most competitions in Big Brother Canada 1, with three Power of Veto wins and two Head of Household wins .
Emmett was stripped of his HOH title in Week 4 when it was discovered that him and 3 others (Jillian, Alec, and Talla) had cheated in the HOH competition. He and the other HouseGuests who cheated were not allowed to play in the redone HOH competition, and they were all Have-Nots for the week.
Emmett was disqualified in a total of 3 competitions in Big Brother Canada.
Emmett was nominated the first and last weeks.
Big Brother Canada 1 House Guests
| | | | | | | |
| --- | --- | --- | --- | --- | --- | --- |
| | | Emmett | | | | |
| | | | |
| --- | --- | --- | --- |
| Winner | Runner-Up | Evicted | Jury |