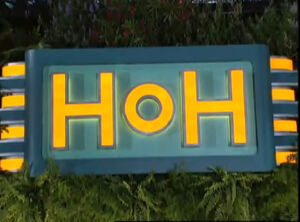 The Head of Household (abbreviated HOH) is the position of supreme power and control in the Big Brother house. The Head of Household is selected each week during the live show. The winner of Head of Household is free from the threat of eviction. They receive perks, such as getting their own private bedroom, but are also faced with the decision of nominating two houseguests for eviction and putting up a replacement nominee when the veto is used..
HOH Competition
Edit
Each week, all houseguests, except the outgoing Head of Household, compete in the HOH Competition. The final 3 is the only time that an outgoing HOH can win consecutive HOH competitions (or if a twist happens and nobody is evicted as did in Big Brother 14 with the coaches reset. Frank and Joe were spared and Shane as outgoing HOH was still eligible to compete). HOH competitions fall into one of three major categories:
Quiz Competition
Edit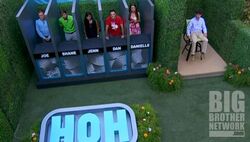 Quiz competitions are fairly short and are shown during the live show. Questions range from events in the house to comments from previously evicted houseguests. The houseguests line up, each getting their own booth, unable to see each other. Julie Chen communicates to the houseguests through the microphone system in the backyard and can see the houseguests through a television screen outside of the house in the studio. She communicates the question to the houseguests, who then answer when she says "Answers, please." Typically, houseguests answer by turning a dial to either "True" or "False", "Yes" or "No", or "Red" or "Blue", although some competitions have used paddles, or cubes with houseguests pictures on them. One incorrect answer results in elimination. The last person standing becomes the Head of Household. If, after all possible questions have been exhausted and there are still more than one remaining houseguest playing, the competition continues into a tiebreaker round. The answer is always a number, ranging from the number of seconds that the houseguests have been in the house to the weight in pounds of an object used in a competition. The houseguests write the number on a chalkboard provided for them. The houseguest closest to the number without going over becomes the HOH. If all competitors go over, the houseguest closest to the number becomes the HOH.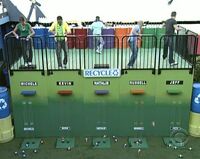 Skill competitions usually involve bowling type games or shuffleboard type games in which houseguests compete while trying to get their marker closest to a certain point without going past it (although sometimes these competitions may differ from that format). The games are usually completed live, but at times, they're not complete by the end of the live show, and viewers can watch the outcome on the live feeds or on the following episode.
Endurance
Edit
Endurance competitions extend well past the time constraints of the one hour live program. They can be viewed by the live feeds on CBS.com. Houseguests generally line up in either a small platform, revolving cylinder, or in a cage. The last person standing becomes the Head of Household. Some competitions require Houseguests to keep hold of a button. If they let go, a light goes out and they are eliminated, while others do not. Harsh weather conditions, such as rain sprinklers, falling leaves, or foamy "snow" are frequently included to make the competitions as grueling as possible. Other times, prizes are awarded to the first out of the competition to tempt the houseguests. Some competitions include both endurance and skill, such as filling up an enormous fishbowl with water, only using a teacup, while the water the houseguests need to transport are several yards away from the bowl.
The Final HOH
Edit
The Final HOH competition occurs when there are only three remaining houseguests in the house. It is broken into three parts; each to be played on a different day. The first competition is always an endurance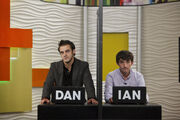 competition and usually requires the houseguests to hold onto their key to the house through some sort of grueling weather condition. The winner of round one automatically advances to round three, while the two remaining houseguests compete in the skill competition. The final round is a quiz competition (Usually "Jury Statements" is played) and since season 11 has been played on finale night . The winner selects who to take to the final two, with the other houseguest being immediately evicted and seated with the jury outside in the studio. Being the most important HOH of the game, all houseguests are eligible to compete, even the outgoing HOH.
The format for the final HOH in season 2 was different to later seasons. The first two rounds were point based and the two highest point getters would compete in the final round.
List of Head of Household Competitions
Edit
U.S. Seasons
Edit
Season
Competition
Winner
2
"Wheel of First Impressions"
Mike
"To The Mat"
Krista
"By The Numbers"
Hardy
"Higher/Lower"
Kent
"Face The Facts"
Hardy
"Pushing It To The Limit"
Nicole
"Big Brother Road Trip"
Hardy
"Strange Bedfellows"
Monica
Final HOH Part 1
Nicole/Will
Final HOH Part 2
Nicole/Will
Final HOH Part 3
Nicole
3
"Wheel of First Impressions"
Lisa
"In the House"
Marcellas
"One Step Beyond"
Roddy
"Face Off"
Gerry
"Gutter Ball"
Chiara
"Houseguest Soup"
Amy
"Who Said It?"
Jason
"Evicted Statements"
Marcellas
"Freezeframe"
Jason
"...And Then There Were Four"
Danielle
"HoH Lifeboat (Final HoH Part 1)"
Lisa
"Household Chores (Final HoH Part 2)"
Jason
"Jury Statements (Final HoH Part 3)"
Lisa
4
"Who's Ya Chum?"
Nathan
"Majority Rules"
Jee
"Everything in 3's"
Dana
"Around the Water Cooler"
Alison
"Who Said It?"
Justin
"Steel Cage Match"
Erika
"Black HoHle"
Jee
"Dissapearing Act"
Jun
"Dearly Departed"
Robert
"On The House (Final HoH Part 1)"
Alison
"Unexpected Relations (Final HoH Part 2)"
Jun
"Exact Match (Final HoH Part 3)"
Alison
5
"Treadmills of Terror"
Jase
"Majority Rules"
Marvin
"High/Low"
Drew
"I Have A Secret"
Diane
"Home is Where the Answer Is"
Nakomis
"The Puck Stops Here"
Adria
"Who Said It?"
Nakomis
"Putting For Power"
Marvin
"Chemical Reaction"
Drew
"Ready Set Gone"
Nakomis
"Before and After"
Drew
"Earthquake (Final HoH Part 1)"
Drew
"Twisted Twosomes (Final HoH Part 2)"
Michael
"Encore Presentation (Final HoH Part 3)"
Drew
6
"Wipe Out"
Rachel
"Fast & Easy"
Eric
"Majority Rules"
Kaysar
"Power Roller"
Maggie
"Eliminator"
Howie
"Pressure Cooker"
Jennifer
"Face the Facts"
Janelle
"On The House"
Beau
"High/Low"
April
"Playing it Straight"
Howie
"Magnetic Attractions"
Ivette
"Before and After"
Janelle
"The Key of Being Safe (Final HoH Part 1)"
Ivette
"Pad-Locked (Final HoH Part 2)"
Janelle
"Jury Statements (Final HoH Part 3)"
Ivette
7
"Falling Stars"
Janelle & Jase (Co-HoH)
"Alison Rules"
Kaysar
"Pay Attention"
James
"Define & Dismiss"
Janelle
"Caught in A Web"
Danielle
"The Ghosts of Big Brother Past"
Janelle
"Prom Night"
George
"Revenge of the Gnomes"
Mike
"But First"
Erika
"Battle of the Sexes"
Janelle
"Big Brother Bowl"
Mike
"Mount HoH (Final HoH Part 1)"
Erika
"Fly by Night (Final HoH Part 2)"
Mike
"Jury Statements (Final HoH Part 3)"
Mike
8
"Mushroom Madness"
Kail
"Majority Rules"
Jen
"Getting Schooled"
Dick
"Eliminator"
Dustin
"Times Up"
Daniele
"Let's Make A Duel"
Jessica
"Strange Visitors"
Daniele
"Tanks for the Memories"
Jessica
"Big Brother Tea Party"
Zach
"Before and After"
Dick
"Picture This"
Zach
"Bunny Hop (Final HoH Part 1)"
Zach
"Chain of Commands (Final HoH Part 2)"
Dick
"Jury Statements (Final HoH Part 3)"
Dick
9
"Do You Know Your Partner?"
Alex & Amanda (Co-HoH)
"Big Brother Democracy"
Chelsia & James (Co-HoH)
"Words of Love"
Joshuah & Sharon (Co-HoH)
"Time After Time"
Ryan
"Big Brother Disco"
James
"En Garde"
Adam
"Big Brother Election"
Natalie
"More... or Less"
Adam
"Glass Houses"
Sheila
"Fact or Fiction"
Ryan
"Up A Creek (Final HoH Part 1)"
Ryan
"Who's the Guinea Pig Now? (Final HoH Part 2)"
Adam
"Jury Statements (Final HoH Part 3)"
Ryan
10
Houseguests First Impression Votes
Jerry
"Majority Rules"
Jessie
"Alien Abduction"
Keesha
"Livin' on the Edge"
April
"Rude Awakening"
Michelle
"Diary Room Confessionals"
Renny
"King of the Jungle"
Dan
"Big Brother Headlines"
Keesha
"Days Go Bye"
Jerry
"Freezeframe"
Dan
"On A Wing and A Prayer (Final HoH Part 1)"
Dan
"Memphis v.s. Jerry (Final HoH Part 2)"
Memphis
"Jury Statements (Final HoH Part 3)"
Dan
11
"The Wedgie"
Jessie
"Most Likely To..."
Ronnie
"Buzzworthy"
Jessie
"Graduation"
Russell
"Say What"
Chima
"Hit the Road"
Michele
"Big Brother Country Club"
Jordan
"Can Do"
Jeff
"The S'More the Merrier"
Kevin
"Fact or Fiction"
Natalie
"Log Jam (Final HoH Part 1)"
Kevin
"Heads Will Roll (Final HoH Part 2)"
Jordan
"Jury Statements (Final HoH Part 3)"
Jordan
12
"Hot Dog! We Have a Weiner"
Hayden
"Majority Rules"
Rachel
"Hang Ten"
Matt
"BB Knockouts"
Rachel
"True Colors"
Matt
"Oh What A Tangled Web"
Brendon
"Big Brother Says"
Britney
"Delivering the Goods"
Hayden
"Big Brother Blackjack"
Lane
"Big Brother Christmas"
Hayden
"Rumble in the Big Brother Jungle
(Final HoH Part 1)"
Hayden
"It's Alive (Final HoH Part 2)"
Lane
"Jury Statements (Final HoH Part 3)"
Hayden
13
"Going Banana's"
Rachel
"The Big Brother Open"
Jordan
"Big Brother Online"
Rachel
"Big Brother Slalom"
Daniele
"Check Mate"
Kalia
"Count on America"
Daniele
"All Washed Up"
Jeff
"Before and After"
Kalia
"Snake Eyes"
Porsche
"Rollin' in the Dough"
Rachel
"Big Brother Fortune Teller"
Adam
"Big Brother Mixer (Final HoH Part 1)"
Rachel
"Underwater Maze (Final HoH Part 2)"
Porsche
"Jury Statements (Final HoH Part 3)"
Rachel
14
"Teddy Bear Madness"
Willie (Chosen by Britney)
"Big Brother Break-In"
Frank
"On Thin Ice"
Shane
"Walk The Plank"
Danielle
"Big Brother Battle of the Bands"
Frank
"Swamped"
Shane
"Before or After"
Ian
"Pull Some Strings"
Frank
"Soak Up the Sun"
Ian
"Make Your Case"
Dan
"Memory Lane"
Ian
"Photographic Memory"
Danielle
"Hook, Line and Sinker (Final HoH Part 1)"
Dan
"Climb Time (Final HoH Part 2)"
Ian
"Jury Statments (Final HoH Part 3)"
Ian
15
"Popsicle Factory"
McCrae
"Big Brother BBQ"
Aaryn
"Overnight Delivery"
Helen
"Big Brother Royalty"
Judd
"Roulette Me Win"
Aaryn
"Bull in a China Shop"
GinaMarie
"Summer School"
Aaryn
"Cherry on Top"
Andy
"Way Off Broadway"
Aaryn
"Off the Wall"
Elissa
"Big Hopportunity"
GinaMarie
"Go Fetch!"
McCrae
"Pixel This!"
Spencer
"Before or After"
Andy
"The Greatest Skate"  (Final HoH Part 1)
GinaMarie
"Under the Sea" (Final HoH Part 2)
Andy
"Tip the Scale" (Final HoH Part 3)
Andy
16
"Go Fly a Kite"
Frankie
"Over the Coals"
Caleb
"BB Rager"
Amber
Devin
"Underwater Polo"
Derrick
Nicole
"Deviled Eggs"
Cody
Frankie
"Country Hits"
Frankie
Zach
"Getting Loopy"
Nicole
Donny
"Mathcathalon"
Caleb
"BB Tourn-eye-ment"
Nicole
Christine
"Dead of Household"
Derrick
Frankie
"Punching for Days"
Cody
"Sloppy the Snowman"
Caleb
"What the Bleep"
Derrick
"Seed-Saw"
Frankie
"Seed-Saw: Rewind"
Caleb
"Foggy Memory"
Derrick
"Fly High or Bye Bye (Final HoH Part 1)"
Cody
"Ancient BBgypt (Final HoH Part 2)"
Derrick
"Scales Of Just Us (Final HoH Part 3)"
Cody
17
"Flying Tomatoes"
James
"UFOh No"
Jason
"Ginger Fever"
Becky
Shelli
"Gronk Pong"
Austin
Vanessa
"Bustin' Moves"
Liz
Shelli
"Pop Till You Drop"
Jackie
Vanessa
"On the Edge"
James
"Midway Mayhem"
Becky
"Getting Loopy"
Steve
"Mixed Emojis"
Liz
"Ready, Set, Woah!"
Austin
"Dizzyland"
Vanessa
The Perks of Head of Household
Edit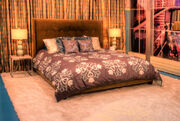 The HOH receives their own private bedroom, equipped with a private bathroom, bathtub, a luxurious suite, and from season five onward, a "Spy Screen" allowing the HOH to watch the other houseguests in the comfort of their own room. The television does not have sound. The HOH also receives a gift basket with their favorite foods, a CD, and a letter from home. The Head of Household does not need to compete in the Have/Have Not Competition because they are guaranteed food for the week.
Responsibilities of Head of Household
Edit
The Head of Household hosted the Food Competition, and then the Have/Have-Not Competition which replaced the Food Competition in Big Brother 11 and ended in season 15, explaining the rules to the other houseguests. They also call house meetings and announce when competitions are being played to the other houseguests. Most importantly, the Head of Household selects two houseguests to nominate for eviction.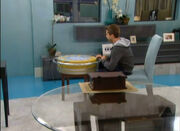 The procedure of nominations includes the Head of Household retrieving the house keys from the memory wall and placing them into the Nomination Box in the Head of Household room. The HOH places the keys of all safe houseguests into the box, while the two remaining keys are wrapped in a bag and left in the HOH room. The two houseguests without a key are nominated for eviction. However, in Season 16 and Season 17, the nomination procedure is the opposite. Instead of leaving the keys of the people nominated, the keys of the people not nominated are kept in the box.