Jillian MacLaughlin
Houseguest Profile
Hometown
New Glasgow, NS
Occupation
Teacher
Season History
Big Brother Canada 1
Status
Winner
Place
1st
Votes Against
0
Votes To Win
4
Alliances
East Coast Alliance
Loyalties
Emmett Blois
HoH Wins
4 (Weeks 2, 7, 8 & 10)
Times Nominated
1 (Day 71)
Vetos Wins
0
Days
71
Social Media
Twitter
JillianMacLaugh
Jillian MacLaughlin is the winner of Big Brother Canada 1.
She is known for backstabbing and blindsiding many houseguests throughout the game. Jillian formed a romantic relationship with Emmett Blois early in the game, and the pair became a dominant force in the house as part of the East Coast Alliance along with Andrew and Talla. In the final vote of the season, Jillian gained votes from Emmett, Talla, Andrew and (accidentally) Topaz, becoming the first winner of Big Brother Canada.
Biography
Jillian (b. 1985) is a 27-year-old teacher from New Glasgow, Nova Scotia and the first winner of Big Brother Canada. She describes herself as being hyper, easygoing, and driven. She states that she wanted to be a part of the series to "shake up her life" after a recent breakup.
Player History - Big Brother Canada 1
Competition History
Week 1
HOH
Loss
POV
Not Picked
Week 2
HOH
Win
Have/Have-Not
Sat Out as HOH
POV
Loss
Week 3
HOH
Previous HOH
Have/Have-Not
Have-Not
POV
Loss
Week 4
HOH
Disqualified
HOH
Inelligible
POV
Loss
HOH
Loss
POV
Loss
Week 5
HOH
Loss
POV
Loss
Week 6
HOH
Loss
HOH
Loss
POV
Loss
Week 7
HOH
Win
POV
Loss
HOH
Previous HOH
POV
Loss
Week 8
HOH
Win
Have/Have-Not
Sat Out as HOH
POV
Loss
Week 9
HOH
Previous HOH
POV
Loss
Week 10
HOH
Win
POV
Loss
HOH Part 1
Loss
HOH Part 2
Loss
HOH Part 3
Unable to Play
Have/Have-Not History
Week 1
Have
Week 2
Have
Week 3
Have-Not
Week 4
Have-Not
Week 5
Have
Week 6
Have
Week 7
Have
Week 8
Have
Week 9
Have/Have-Not Phase Over
Week 10
Voting History
HOH History
Original Nominees
Post-Veto Nominees
Intended Target
Week 2
Week 7
Week 8
Week 10
Post Big Brother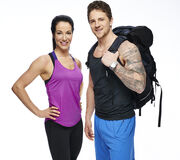 Trivia
Jillian is one of the three houseguests to go on to win the game without winning any of the three parts of the last HOH competition. The other was Maggie Ausburn and Sarah Hanlon.

However, Jillian is the first Canadian houseguest to accomplish this feat.

Jillian won the most Head of Household competitions during the season: winning in Week 2, Week 7, Week 8 and Week 10.
Her victory was the source of controversy, as Topaz had not intended to vote for her to win, accidentally voting for her instead of Gary.
Jillian is the fourth player not to be nominated for eviction after Danielle Reyes, Jason Guy, and Derrick Levasseur, though she along with the other three was nominated by default when she failed to win the final HoH.
She is the first female houseguest to beat a male houseguest in the Final Two in Big Brother history.

However, if Topaz didn't vote incorrectly, Gary would've won.

Jillian was in the Big Brother 15 press day.
Jillian never received an eviction vote.
Jillian is the first female and first houseguest to win Big Brother Canada.
References
Preceded by
Title Established
Winner
Season 1

Jillian MacLaughlin
Succeeded by
Season 2

Jon Pardy

Big Brother Canada 1 House Guests

| | | | | | | |
| --- | --- | --- | --- | --- | --- | --- |
| Jillian | | | | | | |

| | | | |
| --- | --- | --- | --- |
| Winner | Runner-Up | Evicted | Jury |