Jozea Flores was a HouseGuest on Big Brother 18 and was a potential HouseGuest for Big Brother: Over The Top.
Jozea was a member of Team Big Sister. He had an overall disdain for the veteran players and wanted to get rid of them right away. However, his mistake of telling his plan to veteran player Da'Vonne as well as Victor telling Jozea's plan to Head of Household Nicole led to him being blindsided in the first week by a 7 to 4 vote. He defeated Glenn Garcia in the first round of the Battle Back Competition, but lost to Victor in round two which resulted in his permanent elimination, placing 15th.
Jozea and Jason Roy from Big Brother 17 were announced to be part of a viewer poll to determine which of them would be the final HouseGuest on Big Brother: Over The Top. However, Jason got more votes than Jozea, so Jozea did not enter the house.
Biography
Retrieved from CBS.com
Age: 25
Hometown: Bridgeton, NJ
Current city: Los Angeles, CA
Occupation: Make-up artist
Three adjectives that describe you: Funny, outgoing, creative strategist, and a visual genius.
Favorite activities: Gym, hiking, and yoga.
My life's motto is... If you can trust the ground you live on and take all the risks in the world there is to take, you should have no problem achieving your goals.

Player History - Big Brother 18
Competition History
Week 1
Immunity
Loss
HTR Part 1
Loss
HTR Part 2
Win
HTR Part 3/HOH
Ineligible
Roadkill
Loss
POV
Loss
Week 2
Battle Back
Win
Week 3
Battle Back
Loss
Have/Have-Not History
Voting History
Week
Position
Voted for
With Majority?
1
HTR Winner
Ineligible
Nominated
–
–
Post Big Brother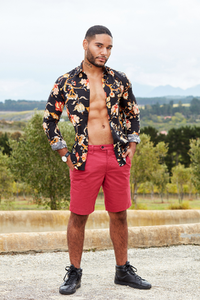 Trivia
Jozea's birth name is Jossie.
Jozea created some controversy on the live feeds by saying that the Fourth of July should not be a holiday. Returning HouseGuest and army veteran James Huling confronted Jozea over his comments. James told him "a lot of Americans died for our freedom," to which Jozea infamously replied back "Ain't nobody told them to do that."
Jozea was ridiculed by fans and his fellow HouseGuests for making a variety of bombastic claims, such as proclaiming that he was a "messiah" for the new players. He also stated that he had connections to host the Grammy Awards after he was done with the show. He was also lambasted for lacking any knowledge of the mechanics of the game, in addition to making remarks about Da'Vonne and Zakiyah that some fans found offensive.
Jozea is the only member of Big Sister that did not make it to the Jury phase.
Jozea is the third person to never be a Have throughout his or her weeks in the house (the others are Cassi Colvin from Big Brother 13 and Joey Van Pelt from Big Brother 16).

He is the first male to accomplish this.

Jozea is the second contestant to not have an interview with Jeff Schroeder after the finale since that trend started. The reason being, he was sent back into sequester for Big Brother: Over The Top, as he was a potential HouseGuest and was only released for finale.
References
Big Brother 18 House Guests
| | | | | | | | | |
| --- | --- | --- | --- | --- | --- | --- | --- | --- |
| | | | | | | | Jozea | |
| | | | |
| --- | --- | --- | --- |
| Winner | Runner-Up | Jury | Evicted |