Slop is a food eaten by Have-Nots. It is a dry oatmeal that tastes horrible. There are many ways to avoid having to eat Slop: being the Head of Household, winning the Have/Have Not Competition, receiving a Slop Pass or refuse to apply to Big Brother's rules and be ejected.
In Big Brother: All-Stars, Slop was introduced as a replacement for peanut butter and jelly sandwiches, which were previously eaten by houseguests who lost the food challenge. Since then, Slop has appeared in every season.
Slop can be used in a competition, such as when a houseguest must consume a bowl of Slop to finish a competition, or when houseguests must pour their bowl of Slop into a jar with another houseguest's name in order to determine the Have-Nots for the week. It is also often used as a temptation in which houseguests may agree to eat Slop for a number of weeks to earn an advantage in a competition.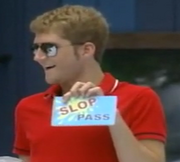 It has been speculated that Slop is really Bill Pearl's High Protein Oatmeal - Unsweetened, which has enough essential vitamins, nutrients, and proteins for the houseguests to maintain a healthy diet. It has also been speculated that Slop is a soy-lent mixture, which also contains the necessary nutrients for a healthy diet.
During the preseason for Big Brother 19 a YouTube video was uploaded, revealing how Slop was made.