Teams
Big Brother Twists
Description
Four groups of four housemates are grouped into teams to compete together.
Appearance(s)
Big Brother 18
Teams is one of the twists in Big Brother 18. Similar to the Clique twist in Big Brother 11 and the Coach twist in Big Brother 14, the houseguests will be divided up into four teams of four for the beginning of the season, with 4 veteran houseguests representing each team.
History
Teams
Members:
Bronte
,
James
,
Natalie
,
Victor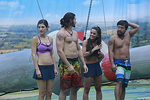 Members:
Bridgette
,
Frank
,
Michelle
,
Paulie
Members:
Da'Vonne
,
Jozea
,
Paul
,
Zakiyah
Members: Corey, Glenn, Nicole, Tiffany
Ad blocker interference detected!
Wikia is a free-to-use site that makes money from advertising. We have a modified experience for viewers using ad blockers

Wikia is not accessible if you've made further modifications. Remove the custom ad blocker rule(s) and the page will load as expected.